Here's what clients are saying, from the East to West Coast and everywhere in between.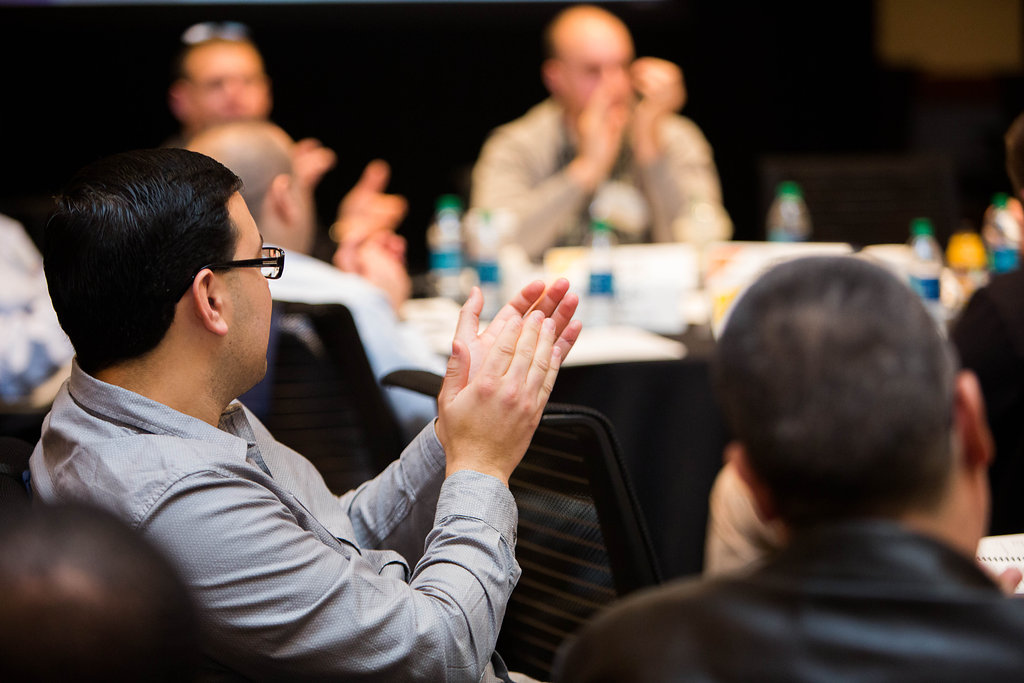 I so enjoyed your seminar yesterday!  I've added to my daily checklist to spend time with your book and materials each morning.  I'm excited about all the nuggets of wisdom that are in my future. 
– Kristine Logan, Kristine Logan Photography
We greatly enjoyed the training and truly believe if people act on it, we will become a much better facility and company. 
– Teijin Automotive Technologies
We are at this place where we couldn't have been even 6 months ago – making progress, setting goals, and adjusting our company structure with our values and mission in mind. This wouldn't have happened without your strategic planning help. Thank you so much. It feels amazing!
– Laura Stine Gardens
Just had an incredibly productive coaching session with Michelle yesterday. She's a consummate professional with a deep understanding of the diversity of the human mind, temperament, and personality.
– Powered by Purple Ink
I hope you know how much you help people through coaching. You can get through to people and bring us out of ruts to understand what needs to change. I appreciate all the great help and understanding you've given.
– Ashley Industrial Molding
I thought you'd like to know: I had my personal best public speaking presentation at our shareholder meeting. I hate public speaking, but your training made it much easier and more effective.
– Henningsen Cold Storage
Thank you for leading our strategic planning. Your ability to get up to speed on our issues so quickly helped focus our discussions and drive us toward actionable steps. You have just the right touch on the reins and brought the group back when we strayed. Participants complimented your style and positive energy.
– Inland Press Association
The hiring committee loved that I hired an executive coach and the things we worked on (personality profile, action plans, references) were a big help. You set me up for success.
– CPA coaching client
You brought a new life to learning at our recent conference. You're so well-spoken and offer a fun, energy-filled approach to subjects our industry has long been in need of improvement.
– Newport Cold Storage
I want you to know how valuable your Customer Communication Skills training is. The very next day, I had to deal with a conflict. I used your instruction immediately. At first, when I heard you teaching, I thought it was just about service but have found that this pertains to much more in my life – in fact, every area. I look forward to learning more from you.
– R.P. Wakefield Company
Your coaching was the best gift I could have given myself. I have the confidence I need as a result of our time together and your attention to my development needs – so thank you. Thank you!
– Dupont Hospital
We are so pleased with the training you designed. All feedback has been highly positive. You added great value to our organization in so many ways. Thanks for sharing your expertise. We'll continue to find ways to work with Gladieux Consulting.
– United Way
You did a fantastic job. We had many, many compliments on your presentation. You gave us all something to think about and aspire to. Thank you for adding so much to our conference.
– Indiana County Treasurers Association
Your workshop was full of practical, useful information presented in such an interesting, engaging manner. Thanks so much for helping us improve our presentation skills.
– Vincent Village
Gladieux Consulting listens to us and works hard to understand our industry, then delivers custom presentations for our specific needs. Michelle makes a real connection with her students. She doesn't hide behind a podium, she makes herself and her subject matter approachable. Our managers applied what they learned right away, because of her expert focus on individual participants' goal setting. You'll definitely notice her preparation and appreciate it.
– Apartment Association
GC coaching is invaluable. I was able to gain the confidence and skills needed to communicate more effectively. I learned to identify blind spots that held me back. Michelle is not only challenging and insightful but patient and understanding. For the rest of my career, I'll be a better listener, handle myself more effectively in meetings, and provide sharper responses.
– Therma-Tru Doors
Thanks again for your expert leadership skills training facilitation. It's unanimous that this was time well spent. On behalf of the entire leadership team, we appreciate your energy and talent.
– Catholic Charities
Outstanding training. We were engaged during the whole presentation. You help us understand ourselves more than you know. Loved it. Thank you.
– Americold Logistics
All of our employees have found a connection with you that will impact their willingness to participate and keep an open mind for the next Gladieux Consulting training programs.
– Indiana Tech
When we asked for conference participants' favorite item on the agenda, our hands-on lab sessions were the winner (as they always are), but next up was Gladieux Consulting as their favorite session out of the whole three days.
– Trelleborg Sealing Solutions
Yesterday's seminar was superb. I thoroughly enjoyed your presentation.
I pledge to personally do better with my communication with family, friends, and co-workers. I've already looked at your website and will begin to dig into all your knowledge in the Coach's Corner.
– Adams County, IN Treasurer
GC seminars are interactive and engaging. Michelle fosters interaction and true reflection. There is no doubt she believes in the "8 days a week" company mission.
– BF Goodrich/Michelin
Michelle is simply a class act. This lady knows her game and is very focused on the mission at hand. The network she serves holds the deepest respect for her. In the area of personnel and organizational development, few demonstrate parity with Gladieux Consulting.
– Paragon Medical
You've again received outstanding reviews for making sure training at our annual Institute is relevant. Your energy and personal communication make you one of our highest-rated faculty members of all time.
– World Food Logistics Organization
Your delivery and message today were outstanding. You seamlessly weave empathy and humor with frank and empiric advice based in research, which is a rare talent. Thank you for sharing just a few of your skills!
– Salin Bank
You should smile when you see my promotion announcement. It's a reminder of your positive impact on people. I'm confident that had I not received your coaching I would not have become a Director. I wasn't focused or decided enough until I met you.
– Dulin, Ward & DeWald CPA
You did a remarkable job presenting "20 Tips for Top Leaders" at our Ft. Lauderdale conference. All the buzz the rest of the week was about how thorough and fun you made your presentation. By far it was best in show and people couldn't stop talking about it. You had to be worn out after teaching at that pace with the sharpness and interaction you brought to an auditorium full of construction guys. Hopefully, our paths cross again.
– Milestone Contractors
Thanks for your support, encouragement, and coaching for my personal development. I received the highest individual award in our company this year, and you played a big role in that.
– Therma-Tru Doors
GC training was extremely well-received by both experienced and novice leaders alike. Comments ranged from "Michelle is the best public speaker I've heard" to "I feel engaged to make a difference in my organization." We welcome Gladieux Consulting back soon because you are a key part of our leadership conference success.
– Best Buy
The way you share your insights and knowledge about communication is amazing. We gain excellent info and get motivated to grow each time we experience your teaching.
– Findley Financial Corporation
We received more verbal compliments about your seminar than any other at the conference. Gladieux Consulting is truly the buzz around here. Thanks so much for presenting with passion.
– Do it Best Corp.
GC is getting rave reviews from our staff. We had a wonderful retreat thanks to your team-building presentation. Thank you for your personable training style and for making every topic so applicable to our staff.
– Baden CPA
Michelle's professionalism, vision, and her company's successes are built on her dream to impact the world by enhancing how organizations behave. Her work had an amazing impact on our government team. Those who believe in leaving this world better than we found it find great results in working with Michelle. Michelle's impact is far-reaching in her work to challenge and advise America's top leaders, leaving businesses and even families better than she finds them.
– City of Ft. Wayne, IN
Motivating, communicating, and dealing with employee issues is the hardest part of my role as President. Michelle always guides me to do the right things when it comes to decisions I'd rather procrastinate.
– SubZero Constructors, Inc.
Thank you for leading our strategic planning retreat. We truly believe our organization is stronger and better positioned because of your input. Thank you for sharing your passion.
– Lutheran Health Network
My business transformed from a slow start to moving at full force and I have you to thank for the motivation and advice. Gladieux Consulting offers good value, great results, and the highest integrity.
– Full Circle Wellness
Michelle is in-demand at our Indianapolis events. Her knowledge of communication strategy and leadership development is impeccable. Her delivery is simply the best we've seen.
– American Credit Association
We're blessed to work with you. We hold you in such high regard. You stay true to your values and know how to channel your strengths. You're one of the best in your profession, thank you.
– Therma-Tru Doors
Thought you might like to know that our students are always asking how they can get more time with you in the classroom. You have so much to offer, and they feel like you are talking directly to them as individuals, reinforcing the elements you discuss in class in real life.
– Purdue University
WOW, did you ever make us look brilliant for hiring you to speak. So many comments, all good.
– U.S. Small Business Administration
Your coaching helped me focus on what I really wanted, see the possibility of change and be so much more confident in my value to my company.
– Executive coaching client
The fire in your heart burns bright, and your attitude is infectious. You could talk to a group about tea leaves, and there is no doubt that they'd leave with a passion for tea leaves. Few people in this world find their niche. This is what people see when they look at you.
– Turning Technologies
Thank you for teaching "Genuine, Motivating Performance Reviews". I was able to talk to my employees directly about their development needs, and they acknowledged them, a first for many.
– Medical Protective Company
Thank you for the opportunity to participate in the Harassment Prevention training this morning. Michelle is an excellent trainer; all employees would benefit from this training. I would require my entire staff to attend if it is offered again. I now have a better understanding of how to recognize and prevent harassment in the workplace and have identified communication skills that I want to improve.  Greatly appreciated.
– Allen County Government
Thank you for your enthusiasm for helping others.  It has a way of inspiring those fortunate enough to come in contact with you.
– American Association of Dental Office Managers
You are engaging, approachable, and positive. People open up, participate and get on board quickly. Thank you for having a conversation as you teach rather than presenting a Powerpoint. The day flew by with great crowd participation.
– Nor-Am Cold Storage
I can see why Michelle was our keynote speaker. What a great model for public speaking. She's a gem. Just the right amount of information is delivered with truth and humor.
– Northern Indiana Career Enrichment Consortium
Thank you so much for helping me face challenges and grow through coaching. It feels really good to have someone in your corner. You were that for me (and more)! I appreciate your candid, helpful nature and would love to keep in touch.
– Peg Perego USA
You have an uncanny way of making us see and acknowledge the obvious and new ideas and research. Your personal stories make us all feel better about ourselves since you know we've done the things you speak of, but you have the guts to lay it out there and talk about what you will do differently in the future. We may chuckle, but we are all thinking "thank God … I'm not the only one that did that, thought that, or felt that way".
You have a gift, and we're lucky you're willing to give us a couple of hours of your time each year.
– B. Smith Office Services
You coached me a couple of years ago. I want you to know what a difference you helped me make in my work relationships. You taught me to appreciate everyone and their special skills. This week one of the people I had the toughest time working with suggested we adjust our hours to be able to work more often together. Thank you!
– Indiana Tech
Through this experience,  I had major breakthroughs that are career and life-altering.  I cannot say enough about Michelle's talent and passion for guiding me on my professional journey.
– Therma-Tru Doors Corporate Office, Maumee, Ohio
I've participated in training programs at previous companies, but this is by far the best experience. I never left a coaching session feeling like Michelle was trying to fix me, I simply left each session inspired to be myself while understanding how I make others feel and function around me.
– Matilda Jane Clothing Company
I was so encouraged by our meeting on Wednesday. Thank you for making the coaching process exciting and insightful. I feel like I know myself much better and am a better person for it, not just in the workplace.
– Life Changing Realities Fellowship
Just wanted to say BRAVO on the excellent training and insightful comments! The exercises were great, and I'm excited for the staff to complete another round of training with GC.
– Allen County Juvenile Center
GC cares about the whole employee—both as a professional and as a person.
– Fort Wayne Museum of Art
Thank you for helping the entire department be the best that they can be.
– Allen County Sheriff's Department
I'd like to share a thought. I love the Olympics, to watch these people put it all out there and rise or fall. A couple months ago it came to me that all Olympians (Summer, Winter, wrestling, ice skating, gymnastics, the list goes on) have one thing in common. They all have coaches. The best of the best have coaches! The coaches can see the things they can't. Their elbows are too high, chin is too low, they're in perfect stance, etc. And you are an amazing gift to this world. Keep up the good work, coach.
– Quality Refrigerated Services/Quality Processing Services
Thank you so much for sharing your time and talent with us yesterday. Everyone has raved about the fabulous training! I experience training all around the world and want to let you know that you are uniquely skilled and truly excellent. SRC is much stronger with GC on board.
– Scientific & Regulatory Consultants, Inc.
We appreciate your tips, style, and insight, and look forward to incorporating what we learned into work and personal communications. Your conversation on energy and optimism was refreshing. Thank you so much for presenting to our team.
– Lincoln Financial Group
Extending appreciation for a hugely successful year of personal and professional growth for my team.  I have observed every single one of them take relevant ideas to work on.  I could not have done it and been as impactful without your help and positive, enthusiastic guidance at all times. Can't wait for 2019 to start a new round of growth and learning!   Happy holidays to you and your team.
– Travel Leaders
You have had a profoundly positive effect on me, and it's being passed on to others.
– Therma-Tru Doors
Many thanks. We appreciate the positive impact that your many talents have on our growing organization. It is always exciting to see the results of your work.
– Creative Liquid Coatings
We are currently in the middle of staff evaluations. We're including items from our individual GC goal plans and personality assessments.
Your lasting impact has been through improving our relationships with each other and with ourselves. Thank you for guiding us to be a stronger team.
– Fort Wayne Dance Collective
Thank you for the great training sessions! Several leaders sent us thank you notes to say how much they enjoyed and got something out of the seminars. Appreciate all your hard work and seeing you in action as a very talented presenter and trainer!
– Premier Truck Rental